The SEN grant enables the nursing student to further develop their clinical and research skills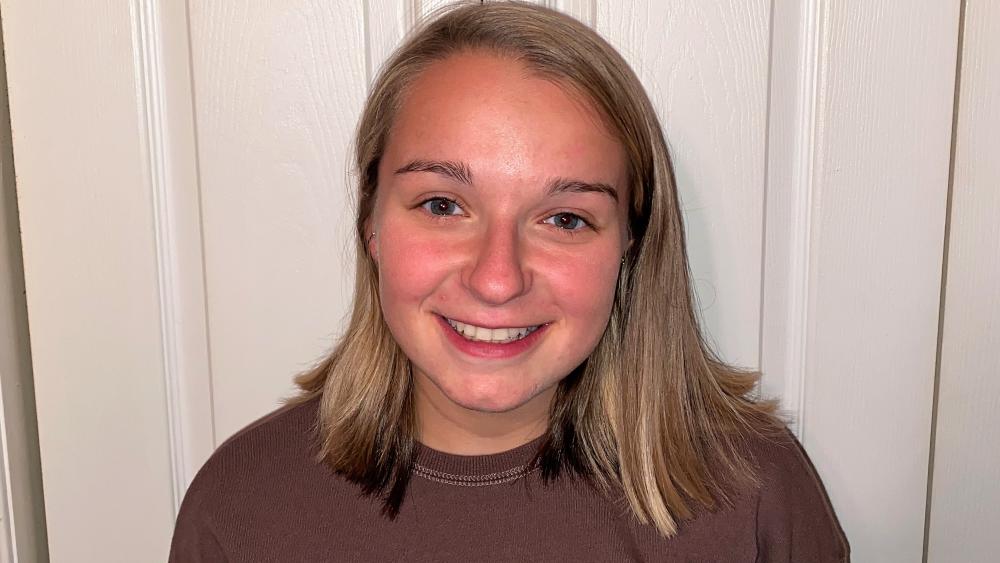 DUNMORE, Pa. — Logan DeSanto developed a true passion for the clinical and research aspects of nursing while at Penn State Scranton.
Now, the specialist nursing student has the opportunity to take her work to a larger scale, thanks to the University's Student Engagement Network (SEN) Remote Innovation Fellowship.
DeSanto recently received a $2,000 SEN grant that allows him to work with Michael Evans, assistant dean of undergraduate nursing education at Commonwealth campuses and associate professor of nursing, and his research team.
The grant application process was "daunting but exciting," according to DeSanto, a junior from Dickson City.
"I was super excited when I found out I had received the grant," she said. "I was studying for an exam when I got the email. I immediately smiled and rushed to tell my parents and the rest of the research group. Receiving the grant m made me even more motivated and excited to begin my work with Dr. Evans.
"It's a pleasure to work with Logan. She is very attentive to detail, hardworking and driven," Evans said. "Students like her motivate me to continue to do more for the profession and our students. They bring a fresh perspective to a project and ask many interesting questions, which often allows me to think about the project in a new light. »
The SEN scholarship provides students with the necessary funding to work with a faculty member on projects that they might not otherwise have the chance to complete due to other professional commitments.
With the grant, DeSanto will now have the time and financial resources to shadow Evans as he tours as a part-time registered nurse for Lackawanna County's Visiting Nurse Association (VNA) Hospice & Home Health.
"In Penn State's nursing program, students typically only get a few days of palliative care and/or home care experience. But, thanks to the SEN grant, Logan is able to follow me one-on-one when I work and really hone his clinical assessment skills, as well as his clinical reasoning and judgment skills," Evans said. "She is learning to provide person-centered care to home patients and hospice patients with life-threatening illnesses. Through this work, she learns to be part of an interdisciplinary team of providers to provide patients with the best care possible.
Meanwhile, DeSanto is also collaborating with Evans and his research team, which includes former campus students Kiernan Riley and Kalei Kowalchik, both doctoral students at University Park, and current campus nursing students Lucy Adams and Megan Lucey. All four students are former SEN Fellowship recipients who have published manuscripts and given scholarly presentations on their work.
DeSanto assists the group with literature reviews, data collection and analysis, and grant proposals. Most notably, she works with the team on Lyme disease research, which includes the development of a manuscript titled "The role of the nurse in the treatment of those affected by Lyme disease".
"Logan is involved in all stages of manuscript development and works with my research team. We hope to complete the manuscript by the end of the year to submit it for publication," said Evans.
"I really appreciate the research so far," DeSanto said. "I like the fact that I can find more information about certain topics that we could cover in class, but maybe not in as much depth. The topics I learn are going to help prepare me to be a better nurse by gaining more knowledge during my undergraduate experience. And Dr. Evans has been really supportive; I feel like I've learned a lot already.
A desire to help
In high school, DeSanto developed an abiding interest in science and medicine. Combined with her lifelong desire to help others, nursing seemed like a great career option, she said.
On campus, she found a high-quality nursing program that provided her with advanced knowledge that was relevant and useful both in the clinical setting and in the classroom. Along the way, she became more and more interested in research. For her, the attraction lies in acquiring information that goes beyond lectures and allows her to delve into various diseases, syndromes and practices.
And the faculty of nursing has been top-notch, she said.
"They go above and beyond to ensure we are successful in the classroom and in the clinical setting. They are always willing to meet with us to make sure we understand the material provided to us," DeSanto said. "Furthermore, I am able to find opportunities and experiences with the help of faculty, such as with Dr. Evans. I'm really glad I chose to study at Penn State Scranton.
After graduation, DeSanto considers several potential paths, including attending graduate school to become a nurse practitioner and working in critical care, which would give her the experience to eventually become a nurse anesthetist.
No doubt her current work with Evans and the research team will help inform that future, she said.
"I really appreciate the knowledge I've gained so far," DeSanto said. "My ultimate hopes are to gain as much experience as possible and to learn more about the field of nursing. This opportunity can give me a better idea of ​​what I want to do with my degree in the future.
"I'm so lucky to work with Penn State Scranton students like Logan who strive to be the best at what they do," Evans said. "I expect her to pursue higher education and become a leader in the nursing profession."